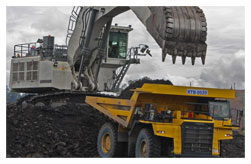 Welcome to PT Borneo Lumbung Energi & Metal Tbk
We are an integrated hard coking coal mining company, well positioned to benefit from the favorable long term industry outlook, with sizeable reserves that may increase, as we execute our drilling program and which will support our planned production of high quality coking coal.
We have a well diversified customer base and geographic location near major customers throughout Asia. We have excellent potential for significant additions to our reserves and resources, and the support of a strong and experienced management team.
Selamat datang di PT Borneo Lumbung Energi & Metal Tbk
Kami adalah perusahaan pertambangan batubara Hard Coking yang berintegrasi, memiliki posisi yang baik untuk mendapatkan prospek keuntungan jangka panjang dari industri yang menguntungkan, dengan cadangan yang cukup besar dan meningkat, karena kami telah menjalankan program bor kami yang akan mendukung kami untuk memproduksi batubara Hard Coking yang berkualitas.
Kami memiliki basis pelanggan yang terdiversifikasi dan memiliki lokasi geografis dekat dengan pelanggan utama di seluruh Asia. Kami memiliki potensi yang sangat baik untuk penambahan cadangan dan sumber daya kami secara signifikan, dan dukungan tim manajemen yang kuat dan berpengalaman.
Share Price
IDR
Updated every 10 minutes. Last Updated: 07/12/2023 01:54:17.